The Altar Server Ministry is a liturgical ministry consisting of boys and girls in grades 4-12 who have received their First Communion. It is a ministry to the liturgy of the Church, ensuring that the sacred rites are celebrated in a solemn manner, worthy of the mystery of God.
Liturgy means "work of the people". This tells us that it is the responsibility of the faithful to work at worship. Altar Serving is a privilege to be approached with respect and humility.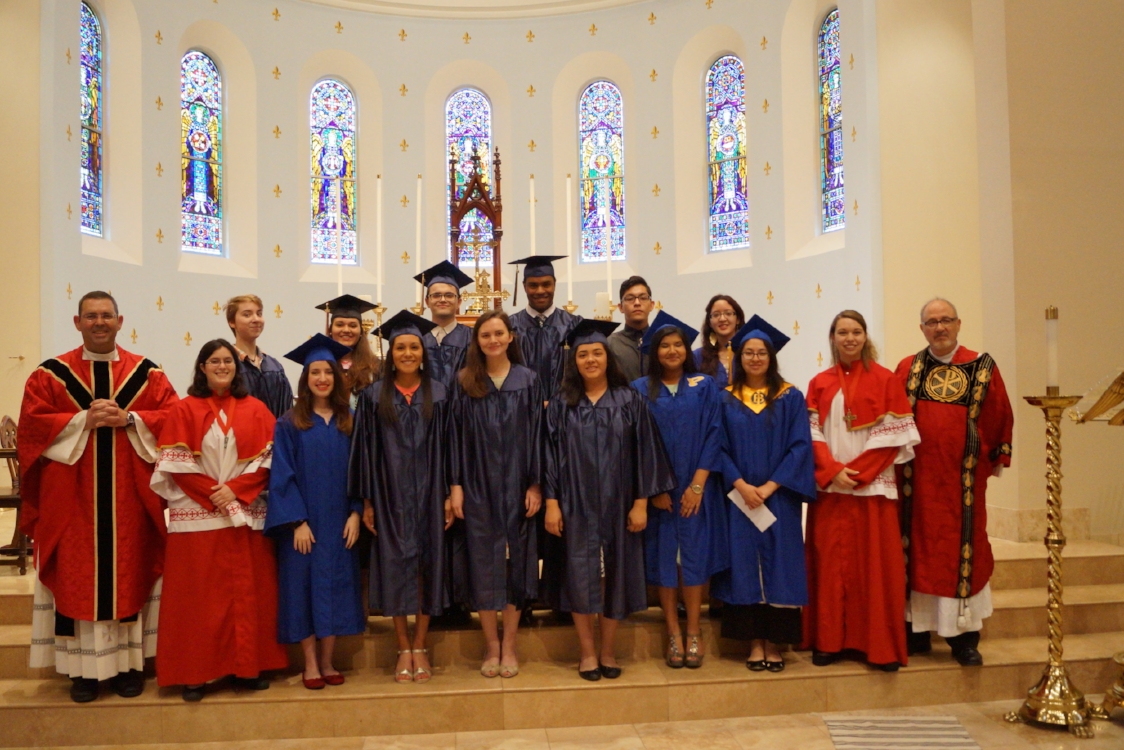 Parents of Altar Servers partner with their child in this ministry. We encourage parents to remember that even though they are not serving directly in the ministry, their participation and opinions regarding service in this ministry, Fr. James and his Parochial Vicars & Deacons, the Acolytes, the Altar Server Coordinators, and the Director of Ministerial Discipleship, can affect a server's desire to serve as well as their own formation as young disciples. The Baptismal rites of the Church explain that the parents are to be the first teachers of their children in the faith. Parenting an Altar Server is a perfect opportunity to embrace this commitment to God.
Altar Server Ranks
There are several ranks of altar servers. Each rank performs certain functions during Mass. The Altar Server Coordinators, made up of Acolytes and Senior Altar Servers, train all ranks of servers.
4th grade: Observer to Apprentice
5th-6th grade: Server
7th-8th grade: Junior
9th-12th grade: Senior
The Elevation Service generally occurs on an evening in October. Observers must serve a minimum of 10 Masses before they are eligible for elevation. The observation period may be as short as 4 months, but this depends on how often the observer is signed up to serve. Signing up to serve at Mass is the responsibility of the parents and observers by filling out an Information Sheet. The completed Altar Server Information Sheet is most beneficial to make sure that you are scheduled to serve Masses on a regular timetable.
The schedule for weekend Masses:
Saturday Vigil - 5:00 p.m.
Sunday - 6:00 a.m. (Spanish)
Sunday - 7:30 a.m.
Sunday - 9:30 a.m.
Sunday - 11:30 a.m.
Sunday - 1:30 p.m. (Spanish)
Sunday - 5:00 p.m. (Spanish)
St. Louis Altar Server Policies
Altar Servers must:
1. Attend the three mandatory Serviam Saturdays throughout the year as well as the fall business meeting unless there is a reasonable exception. Reasonable exceptions are:
Family emergency
Illness of the server
Academic tutoring or other academic activity
Sudden transportation difficulties
Since the frequency of the three Serviam Saturdays is not too demanding, every effort should be made to attend said meetings. Important information and materials are handed out at these meetings. All Servers are expected to attend. Rehearsals or practice attendance prior to Elevation Services are mandatory in order to be elevated.
2. Each server is expected to serve minimum 20 Masses per year. (July 1st – June 30th). This will keep the server in active status.
3. Four Important Items:
Arrive 30 minutes early for Mass
Sign-in on the Altar Server Sheet
Dress in server vestments
Perform duties as designated by your assigned position.
Note: If a server fails to sign in, that Mass will not be counted toward the attendance requirements.
4. Remember that we are Witnesses of Worship. The following are important guidelines for being responsible witnesses to the Assembly:
Participate in all prayers, hymns, and responses during Mass. This is expected!
Dress appropriately (long black pants and black shoes for boys, long pants or dresses and black shoes for girls)….school uniforms for school masses.
Make sure hands are clean and hair is neat prior to vesting.
5. Prayer Posture - Maintain respectful posture on the altar at all times (hands out of pockets and held in position of prayer when called for; sitting with feet down, hands in lap extended as shown in class).Be mindful that your hands need to be folded in a prayerful position with fingers pointed towards heaven!!! Servers performing duties that require wearing the white gloves need to keep their gloves on until just before Communion time. Keep attention focused on the Mass. Do not look around the church for parents and friends. Listen to the readings and the homily. NO SLEEPING! Be alert and prepared for any requests from the celebrant. Be kind and fair to each other at all times (not just on Sunday!)
6. Find a substitute if you are to be absent; a directory is provided in order to recruit your own substitute. Call the Director of Liturgy to submit the name of the substitute to be included on the Sign-In Sheet. Please allow adequate time for yourself when finding a sub!
Scheduling of Altar Servers
The altar server schedules for weekend Masses as well as Holy Days of Obligation, St. Louis school Masses, and other church services are prepared by the Office of Liturgy. During the year an altar server information sheet will be mailed out. The information sheet needs to be returned to the Elizabeth Polito at the parish office within a day or so after receipt. Once prepared, all liturgical ministers' schedules, including altar server schedules will be available on line and in the Ministries Room in the Narthex of the church.
It is very important to respond quickly when you receive your altar server information sheet. This sheet will be used to create the liturgical minister schedule, which includes your name.
Any changes regarding addresses, phone numbers, or moves need to be reported to the Mrs. Polito upon occurrence.
Once the schedule is created, printed, and distributed, your assigned times to serve are your responsibility.
Should an emergency occur and prevent you from fulfilling your commitment to serve, please contact Elizabeth Polito at 512-454-0384 ext. 213 with the name of the substitute who will take your place.
You are responsible for recruiting your own substitute. A directory will be provided for that purpose.
Parents of new observers are asked to indicate on the Information Sheet the preferred times to serve. The Sign-In Sheet will reflect your choice of service time. Please remember to have your child sign-in each time they observe!! Remember 10 Masses are needed to be elevated.
The Office of Liturgy will do everything possible to allow each server to be scheduled for the minimum of the 20 Masses required.
It is most important to fill out the Altar Server Information Sheet and return to the Director of Liturgy office.
Note: due to the high number of preferences for the 9:30 and 11:30 Sunday morning Masses, some servers at those times may not make the goal of 20 Masses. We do not have room on the altar for a dozen or more servers, nor do we have enough vestments for such numbers. Therefore, we cannot simply increase the number of servers at these Masses. There are ways for servers to achieve the 20-Mass goal outside of serving the 9:30 and 11:30 Masses:
Choose to serve at the Saturday 5:00 p.m. Vigil or the Sunday 7:30 a.m., 1:30 p.m. (Spanish), or the 5:00 p.m. (Spanish) Masses.
Choose to serve any of the daily Masses, any funeral Masses, or special feast day Masses.
If a server is not a St. Louis School student, attempts will be made to place that server more frequently in the weekend Mass schedule in order to get them closer to the goal of 20 masses. However, there is no guarantee that the office of the Director of Liturgy will be able to accommodate that goal. Again, volunteering to serve at Masses and services other than 9:30 and 11:30 a.m. will help in alleviating deficiencies.
We strongly encourage servers who are bi-lingual in Spanish/English to consider serving at the 6:00 a.m., 1:30p.m. or 5:00 p.m. Spanish Masses. Not only are we in need of more servers for those Masses on a regular basis, we believe that the traditions and culture of the Spanish Mass should be taught and preserved.